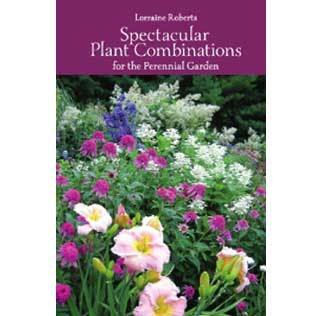 Spectacular Plant Combinations for the Perennial Garden
SKU 00002
Product Details
ON SALE NOW - Save $10.00 off each book

Please note: The cost to ship is EXACTLY what Canada Post charges us in Canadian dollars. No more, no less. We do not even charge for the box and time to pack it. USA customers save about 35% off every purchase because of the Canadian dollar exchange rate. WOW - that's between $7.00 and $8.00 off just the cost of shipping and even more savings on the books. There is also an option to pick up the book at checkout.

Spectacular Plant Combinations for the Perennial Garden by Lorraine Roberts, uncovers the colours, shapes and design techniques behind the winning plant combinations that have drawn visitors to her award winning botanical garden Plant Paradise Country Gardens™. Creating spectacular plant combinations can be a daunting task for many gardeners. Lorraine's wealth of knowledge and experience provides you with the skills to succeed confidently. She approaches gardening from an artist's perspective, introducing you to the fundamentals of colour, flower form, leaf shape and texture. In Spectacular Plant Combinations for the Perennial Garden, you will learn how to plan your sun or shade garden using plants of varying heights, flower shapes and blooming seasons. There are a hundred spectacular plant combinations for sun and shade photographed on location in the botanical gardens at Plant Paradise Country Gardens™ to inspire your gardening creativity.
About the Author
Lorraine Roberts is a lifelong organic gardener, environmental advocate and educator for sustainable organic gardening methods. She is also a perennial expert, garden designer, photographer and author of two books. Lorraine and her husband Robert, are the creators and owners of the multi-award winning botanical garden, organic perennial nursery and retail garden centre - Plant Paradise Country Gardens™ located in Caledon, Ontario, Canada. Every spring you'll find Lorraine in the greenhouse potting the perennials she grows and sells at Plant Paradise Country Gardens.
Always feel safe shopping at Plant Paradise Country Gardens with our secure payment gateway.
Save this product for later