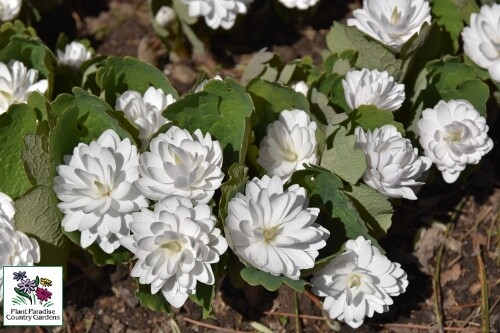 Sanguinaria canadensis 'Multiplex' (double bloodroot)
SKU 00244
Product Details
Sanguinaria canadensis 'Multiplex' (double bloodroot) leaves unfurl to reveal a mass of white multi-petaled flowers that resemble miniature roses. This woodland ephemeral blooms early spring and goes dormant in late summer. This is a North American native plant. We pot mature divisions.

3 inch container (mature bloom ready division)

Light: Full Shade – Part Shade
Soil: Any type – the better the soil the better the plant grows
Moisture: Average – Dry
Benefits: Easy, Deer Resistant, Pollinators
Height: 6 inches
Blooms: April-May
Foliage: Gray-Green Serrated
Spacing: 7 inches
Growth Habit: Rhizomatous
Zones: 3-8
Always feel safe shopping at Plant Paradise Country Gardens with our secure payment gateway.
Save this product for later