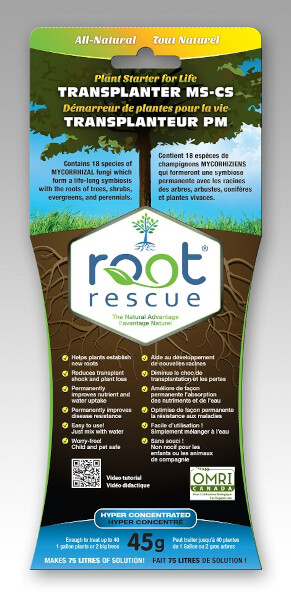 Root Rescue 45 grams - Mycorrhizal fungi
SKU 00009
Product Details
Root Rescue (mycorrhizal fungi) can be added when initially planting or even after you have already planted. This will naturally enhance and accelerate root growth which will create greater performance and resistance to disease and pests.
This 45 gram package will inoculate 40 one gallon plants.
This highly concentrated powder is mixed with water. Easy to use. Mix one teaspoon with water in a 7 liter watering can. Pour directly on the roots when planting or pour around a plant that has already been planted. One time application for the life of the plant or until it is moved or divided. Can be used on everything you grow – perennials, vegetables, annuals, indoor plants, trees, shrubs…
Always feel safe shopping at Plant Paradise Country Gardens with our secure payment gateway.
Save this product for later