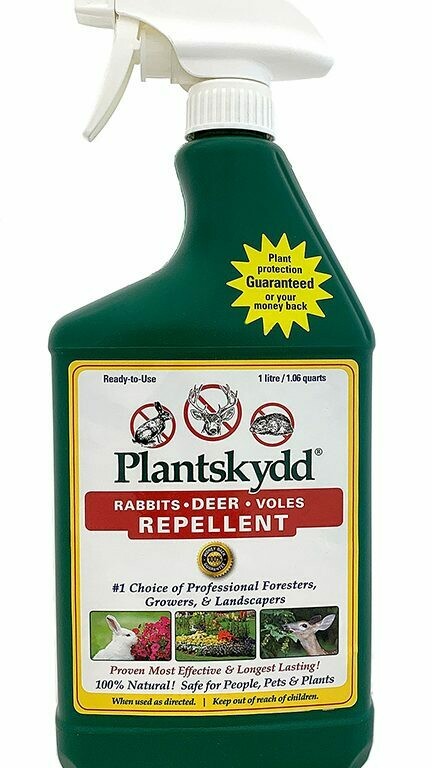 Plantskydd - 1 Litre Bottle Sprayer (Liquid)
SKU 00302
Product Details
Pick- up only by appointment Wednesday to Saturday between 10:00am - 2:00pm

Plantskydd emits an odor that animals associate with predator activity, stimulating a fear-based response which results in animals looking elsewhere to dine. Plantskydd stimulates a fear-based response which will have: Deer, Elk, Moose, Rabbit, Hares, Voles, Squirrels, Chipmunks, and other herbivores looking to dine somewhere other than your garden, nursery, orchard, or tree plantation.

They don't even taste test. Animals avoid plants before they bite – not after!

Non-toxic, chemical-free Plantskydd is the first animal repellent listed by the Organic Materials Review Institute (OMRI)

Independent research shows Plantskydd repellents out-last and out-perform all other-repellents
— up to 6 months over-winter!

It is rain-resistant.
Unlike other repellents, Plantskydd does not require re-application after rain or irrigation and provides the longest lasting protection for winter and during the growing season of any repellent available.

Plantskydd's long-term effectiveness is attributable to its tenacity in sticking to plants—even under severe snow/rainfall conditions—up to 6 months over winter.
Protects 100 plants, 1 foot high
Application frequency: Growing season (2-4 weeks + spray new growth), Dormant season (3-6 months).

On the 24 acres at Plant Paradise Country Gardens we have deer, squirrels, chipmunks, voles and rabbits roaming year round. We have used Plantskydd for over 10 years to protect our valuable plants, flowers, trees, shrubs and gardens. It works.
Always feel safe shopping at Plant Paradise Country Gardens with our secure payment gateway.
Save this product for later