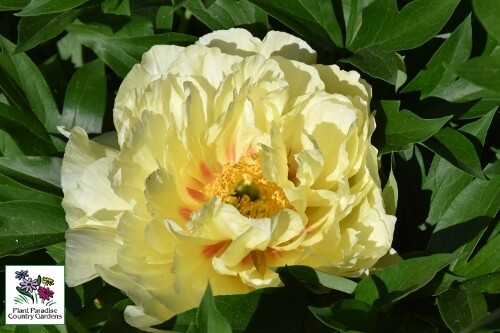 Paeonia 'Bartzella' (Intersectional Peony)
SKU 00108
Product Details
Pick- up only by appointment Wednesday to Saturday between 10:00am - 2:00pm

.
Paeonia 'Bartzella'(Intersectional Peony) is an outstanding, award-winning intersectional peony with huge 8 inch double pastel yellow flowers with a small orange-red flare in the center. Intersectional peonies are created by crossing a herbaceous peony with a woody tree peony. This provides them with the best qualities of both: strong, weather resistant flower stems that do not require staking, longer bloom period, extreme hardiness and increased vigor, healthy green foliage, very floriferous with 40-50 blooms on a mature plant.

Sold in the fall of 2020 Bareroot with 3-5 eyes.
In the spring of 2021 it is sold in a 2-3 gallon container

Light: Full sun - Part Sun
Soil: Any type - the better the soil the better the plant grows
Moisture: Average - Moist - Dry
Benefits: Deer Resistant, Cut Flower, Long-Blooming for a Peony, 40-50 blooms on a mature plant, Scented
Height: 36 inches
Blooms: June
Foliage: Green, tree peony-like foliage
Spacing: 3-4 feet
Growth Habit: Clump, Shrub-like
Zones: 4-9
Save this product for later