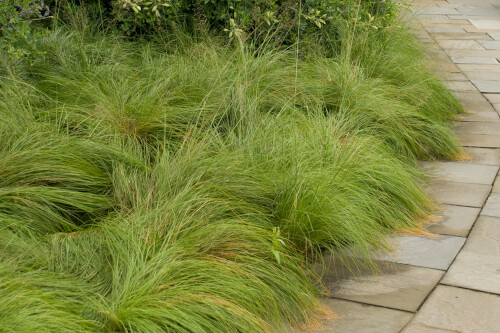 Grass- Sporobolus heterolepis (Prairie Dropseed)
SKU 00298
North American Native Grass
Product Details
Pick- up only by appointment Wednesday to Saturday between 10:00am - 2:00pm

Sporobolus heterolepis (Prairie Dropseed Grass) is considered by many to be one of the most refined of all native prairie grasses, Prairie Dropseed has a soft, fountain-like look about it. The green leaves are very narrow, almost threadlike, and grow to form an 18" tall clump. It often turns rich shades of gold or deep orange in the fall and then light copper to creamy tan in winter.
In late summer, soft pinkish brown flowers are produced atop thin, arching stems held high above the foliage. These panicles are filled with distinctly sweet smelling seeds which smell like ground coriander.Though it produces an abundance of seeds, it is not known to be invasive in the landscape.This grass is very heat and drought tolerant because it is deep rooted. It is often planted
en masse
as a ground-cover or as a specimen.
Prairie Dropseed is native to North American prairies and occurs naturally from Canada to Texas. Much of it has been destroyed by overgrazing and farming, so now it is only found in undisturbed prairies. Native Americans once used its seeds to make flour. This plant gets its name from the way the tiny mature seeds drop to the ground in the fall. Birds and other wildlife depend on this plant as a nutritious food source. Grows slowly. (Photo courtesy of Walters Gardens, Inc.)
1 gallon container
Light: Full Sun
Soil: All types
Moisture: Average – Dry
Benefits: Birds, Easy, Drought Tolerant, Wildlife Food Source
Height: 18 inches
Blooms: Late summer
Foliage: Bright steel blue with a mix of colours in the fall
Spacing: 2-3 feet
Growth Habit: Clump
Zones: 3-9
Always feel safe shopping at Plant Paradise Country Gardens with our secure payment gateway.
Save this product for later