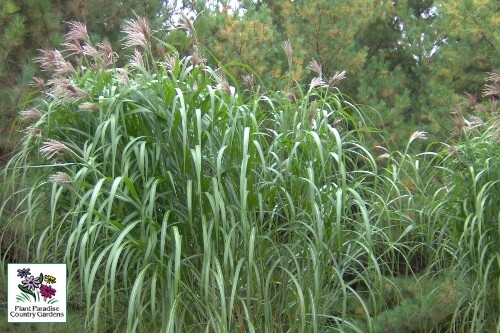 Grass - Miscanthus sinensis 'Giganteus'
SKU 00052
Product Details
Pick- up only by appointment Wednesday to Saturday between 10:00am - 2:00pm

Miscanthus sinensis 'Giganteus' is a large, non-invasive ornamental grass that has green leaves with a silver midrib center. Burgundy-red flower plumes rise above the upright arching leaves in late fall around October. The flower plumes eventually age to a silver colour. Miscanthus sinensis 'Giganteus' is architecturally massive and can be used for a screen to hide from your neighbour. In areas with not very much snow coverage Miscanthus sinensis 'Giganteus' can provide winter interest. In our botanical gardens we cut down all our ornamental grasses in late fall, around November, to prevent moles and voles from nesting in the foliage that falls with the weight of the winter wind and snow. We cut down ornamental grasses with a power tool (Stihl blade) and save the very sturdy dried flower stems for next year's plant stakes.
We sell large rooted divisions in 2 gallon containers

Light: Full Sun
Soil: All types
Moisture: Average – Dry – Moist
Benefits: Deer-resistant, Easy, Filler, Drought Tolerant, Screen
Height: 12-18 feet
Blooms: August to October
Foliage: Narrow Green with a Silver Center Midrib
Spacing: 3-4 feet
Growth Habit: Clump
Zones: 5-9
Always feel safe shopping at Plant Paradise Country Gardens with our secure payment gateway.
Save this product for later