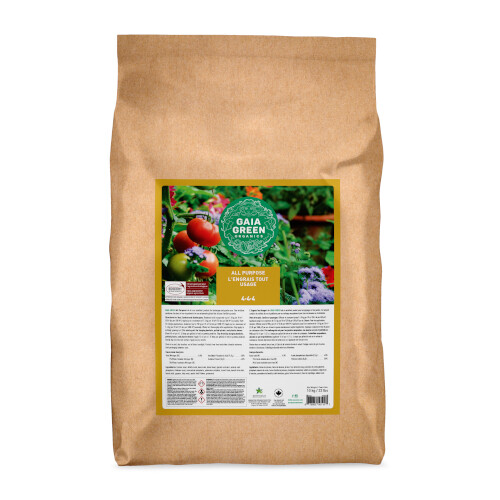 Gaia Green 4-4-4 Certified Organic Fertilizer 10kg bag
SKU 00008
Product Details
Pick- up only by appointment Wednesday to Saturday between 10:00am - 2:00pm

Gaia Green 4-4-4 All Purpose Organic Fertilizer is an excellent choice for landscapes, vegetables and flower gardens. This blend combines a wide array of ingredients and is the only all purpose fertilizer incorporating glacial rock dust and fossilized carbon complex. The ingredients in this powerful blend provide a range of essential nutrients required for flourishing plants and fostering great soil health.
Gaia Green Premium Organic Fertilizers are natural slow release, build soil organic matter, and do not leach from the root zone so more of the fertilizer will be used by the plants. Over time as soil structure improves, less fertilizer will be required, significantly reducing the long term costs of fertilizing organically.
Gaia Green organic fertilizers feed the soil and the organisms living in it. These soil organisms process, cycle and re-cycle nutrients creating a natural "slow release" which helps to build essential soil organic matter and improve the soil food web. HEALTHY SOIL PRODUCES HEALTHY PLANTS.
A truly all-purpose fertilizer, suitable for a wide range of vegetables, flowers, trees, shrubs and lawns. This is the choice for gardeners wanting a single organic fertilizer solution to suit all their gardening needs. Not just a fertilizer, All Purpose embodies the Gaia Green ethos of improving soil quality to support resilient plant growth.
Easy-to-use and long-lasting, this formulation combines ingredients with variable nutrient release rates for feeding plants all season long.
Derived from certified organic alfalfa meal, basalt rock dust, blood meal, bone meal, feather meal, fishbone meal, fossilized carbon complex, glacial rock dust, greensand, gypsum, insect frass, kelp meal, mined potassium sulphate, mineralized phosphate, oyster shell flour, rock phosphate.
Gaia Green All Purpose 4-4-4 Fertilizer is approved for use in organic agriculture by Ecocert Canada (in compliance with Canada's Organic Production Systems General Principles & Management Standards and Permitted Substances Lists (CAN/CGSB 32.310-2015 and CAN/CGSB 32.311-2015)
Always feel safe shopping at Plant Paradise Country Gardens with our secure payment gateway.
Save this product for later